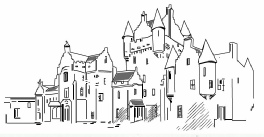 We are most grateful to The Borders Forest Trust for a grant to plant 240 trees.
Species include Norway Maple, Hazel, Wych Elm, Sessile Oak, Noble fir, Atlas Cedar and Oriental Spruce. All trees have suitable protection.
Extensive work has been undertaken to remove the many unsafe pine trees in the Walled Garden. Investigations by our Hon. Archivist, Ian Hankinson, have revealed that this area was possibly a Japanese garden, which were popular on estates in the early twentieth century. The garden once housed a large glasshouse and the foundations are still visible.
Restoration of the garden including the rockeries and ponds, along with refurbishment of the Summer House and the boundary wall are long-term projects. The Walled Garden is currently inaccessible to visitors.