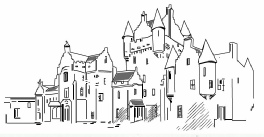 Visiting the Castle and Grounds
Ayton Castle will be open to the public for guided tours on certain days in the year. The tea room will also be open.
2019 Open Days
Ayton Castle will be open to visitors on the following dates:
Saturday 27 April
Thursday 20 June
Friday 19 July
Saturday 20 July
Guided tours will be available between 10am and 4pm (last tour at 3.30pm).
You will need to book via the Factor at factor@aytoncastle.co.uk
The maximum per group is 12 people. The charge is £9 per head (children free).
Please park in front of the castle and enter via the coach pend (on the left of the main door)
Our Tea Room will also be open serving tea, coffee and delicious cakes.
Please see our website for details of open days later 2019 and also other events.
Ayton Castle, Ayton, Berwickshire TD14 5RD
Follow us on


Ayton Castle is a member of Historic Houses.