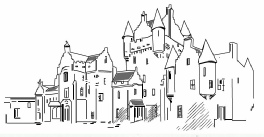 Visiting the Castle and Grounds
Ayton Castle will be open to the public for guided tours on certain days in the year. The tea room will also be open.
We hope to announce the dates of tours of the Castle in 2021 very shortly. Please revisit this page.
We welcome visitors to the grounds of Ayton Castle. Access to South Drive is under South Lodge or off the Eyemouth Road. Round signs with blue arrows indicate the route of the Riverside Walk and a map can be downloaded here.
Off the South Drive is a walk down through The Dell and then up along a path towards the walled garden. This reinstated path takes in many fine specimen trees and in time this route will be marked out as a tree trail.
Dogs must be kept on a lead at all times.
There is a dog waste receptacle on the South Drive.
Car parking along the South Drive is not permitted.
Please note that the area in front of the castle is not accessible.
We respectfully request that ashes are not scattered within the grounds.
Ayton Castle, Ayton, Berwickshire TD14 5RD
Follow us on:



Ayton Castle is a member of Historic Houses.