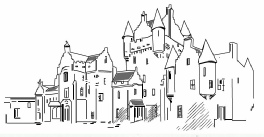 In June 2021 work will commence on constructing Ayton Castle Railway. Passengers will be able to board a train at 'Eyemouth Road Station' and enjoy a trip along our 10¼" gauge line to 'Castle View Halt' before retuning back to the station. From the Halt there is access to the castle where the 'Station Buffet' café is located. Tours of the castle commence by the cafe. The toilet facilities are adjacent to the café.
The length of the line is approximately 500 metres and our two-carriage train will be headed up by a diesel locomotive called Lloyd. Tickets for Ayton Castle Railway can be purchased from the booth on the station platform. We use the old style 'Edmondson' tickets and the fares are as follows:
Ayton Castle Railway Fares
Adult £3
Child £2
Family (2 adults & 2 children) £8
Rover (unlimited travel on day of issue) £12
We accept cash and contactless payments.
Car parking and access to the railway will be from the Eyemouth Road only.
Work on the railway is being carried out by Alan Keef Ltd (www.alankeef.co.uk), light railway engineers and locomotive builders of Ross-on-Wye.
The railway should be open in September 2021.
The railway will be available for private hire such as for wedding parties and private visits for model engineering societies.
Please revisit this page for further information about the progress of the railway.