Work on constructing Ayton Castle Railway has now been completed. The official opening took place on 24th September 2021.
Passengers will be able to board a train at 'Eyemouth Road Station' and enjoy a trip along our 10¼ inch gauge line to 'Castle View Halt' before retuning back to the station. From the Halt there is access to the castle where the 'Station Buffet' café is located. Tours of the castle commence by the café. The toilet facilities are adjacent to the café.
The length of the line is approximately 500 metres and our two-carriage train will be headed up by a diesel locomotive called Lloyd.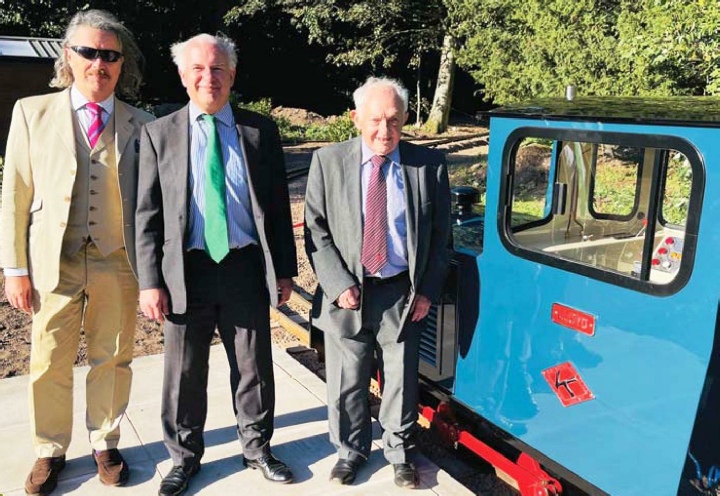 The official opening of the Ayton Castle Railway took place on 24 September 2021 at Eyemouth Road Station. Left to right are: co-owners Richard Syred and Brian Parsons, alongside Barrie Forrest (of the local rail group RAGES), and diesel locomotive "Lloyd".
Ayton Castle Railway is now closed until Easter 2024
We will announce the 2024 running dates in January 2024.
Trains run approximately every 15 minutes.
Tickets for Ayton Castle Railway can be purchased from the booth by the station platform. We accept cash and contactless payments. Please retain tickets for inspection.
We use the old style 'Edmondson' tickets and the fares are as follows:
Ayton Castle Railway Fares (from October 2021)
Adult £3 (16 & over)
Child (up to 3rd birthday) FREE
Child £2 (from 3rd birthday to 16th birthday)
Family (2 adults & 2 children) £8
Rover (unlimited travel on day of issue) £12
Children (under 8 years) must be accompanied by an adult. Dogs are welcome and travel free of charge. Buggies and prams can be accommodated on the train where space permits; they can also be left on the platform of Eyemouth Road Station.
Toilet facilities are only available at Ayton Castle.
Please do not walk on or over the track; only cross the line at the level crossing.
Please do not lean out of a moving train.
The railway is available for private hire such as for wedding parties, corporate events, filming, etc.
If you are interested in volunteering on the railway, please email the Factor: factor@aytoncastle.co.uk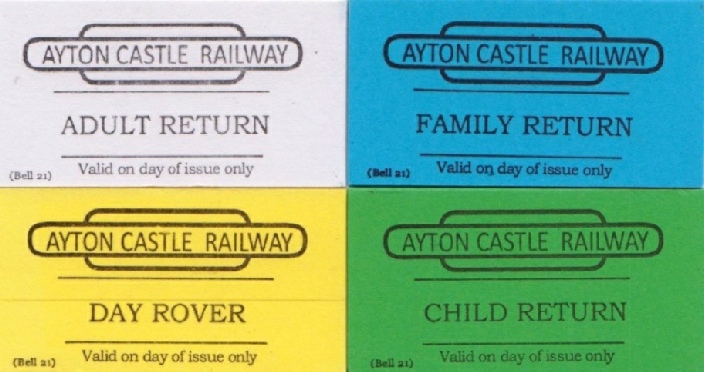 Car parking and access to the railway will be from the Eyemouth Road only.
Please revisit this page for dates of running days.
Work on the railway was undertaken by Alan Keef Ltd (www.alankeef.co.uk), light railway engineers and locomotive builders of Ross-on-Wye.
Visits from Railway-related organisations are more than welcome. Please email the factor.